Visit to foundries in Slovenia
September 29 2023
We are pleased to announce another successfully implemented activity of our Association; an extremely high-quality and interesting visit to our colleagues in Slovenia.
What did it look like? Who is early…like us, well…then we even visit two foundries in the same day.
First, we were received in a friendly manner in Valji, led by Matej, where we had the unique opportunity to witness the pouring of roller, weighing just little under 20 tons! Imagine how many questions we had…
That casting of the roller was poured in 3 parts-stages, with three different qualities; was very interesting and wonderful to watch. HSS, gray cast iron, and nodular cast iron, one after the other, according to a specific process, and a well-coordinated team on the field…, BRAVO to all.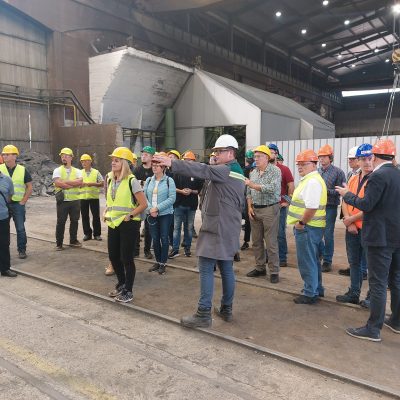 After the successfully completed casting, we visited the smelter with a total capacity of 80t, and the laboratory with everything necessary to ensure the required quality,
. Impressive!
Valji, THANK YOU!
Then our group from 32 people; from Croatia, Slovenia and Austria, full of impressions, took a break during lunch at Gostilna Medved, preparing for another interesting tour.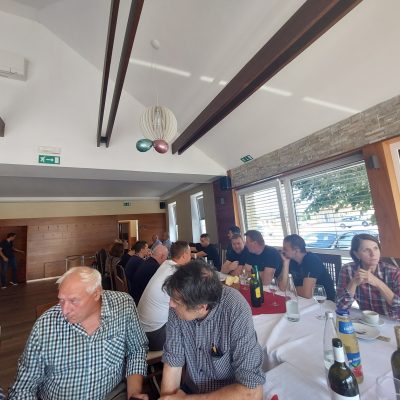 Around 3 pm, we were warmly welcomed to Livarna Kovis.
Right at the beginning, Jerice and Damjan, thank you very much!
What did we see in Kovis? All the best; an extremely modern and organized foundry, with an excellent team as well.
It was a pleasure for us to go with our hosts through all the departments of Kovis, and for example to see pouring on the HWS Sinto line with an automatic casting device from the same manufacturer; with pots of 2t capacity, new preparation of synthetic sand (Eirich), new melting shop (ABP) with charging area (JML), cold box core-shop, super-equipped laboratory of the control department, fantastic pattern warehouse and pattern shop…
We had so many questions here too!
And, of course, we also received answers to them
.
Kovis, THANK YOU!
Kovis Livarna (kovis-group.com)
Previous
Next